Serves 8 to 10
1 (6-pound) beef brisket (first cut, or whole brisket)
1½ tablespoons kosher salt
1 tablespoon ground turmeric
1 dried lime, crushed and ground in a spice grinder
¼ cup canola oil
3 large onions, finely chopped
Garlic cloves from 1 head, thinly sliced
2 quarts chicken stock
2 cups dried black-eyed peas, soaked for 4 hours or up to overnight
3 bunches lacinato kale (about 15 stalks), stemmed and chopped
Handful chopped fresh dill
Season the brisket ahead
Rub the brisket with the salt, turmeric, and dried lime. Cover and refrigerate for at least 24 hours or up to 2 days.
Roast
Preheat the oven to 500°F. Place the brisket on a rack in a baking pan. Roast for 20 minutes. Remove from the oven and set aside. Reduce the oven temperature to 275°F.
Prepare Aromatics, and add to meat
Heat the oil in a deep ovenproof pot. Add the onions and garlic and cook, stirring, until the onions are translucent. Add the brisket and the stock. Cover and braise in the oven for 2 hours. Check and add water if necessary. Remove from the oven, add the black-eyed peas and kale, cover, and braise for 2 more hours, or until the beans and brisket are fork-tender. Serve with the dill.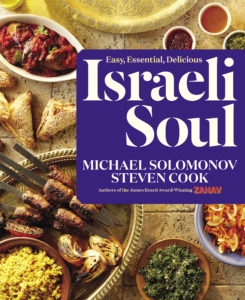 Pre-Order your copy of Israeli Soul here!
BRISKET STEWED WITH BLACK-EYED PEAS is excerpted from ISRAELI SOUL © 2018 by Michael Solomonov and Steven Cook. Photography © 2018 by Michael Persico. Reproduced by permission of Rux Martin Books/Houghton Mifflin Harcourt. All rights reserved.